Choosing the right Christmas present for a child can be a challenge, especially if they're unable to tell you what they would like.  Sensory gifts for children are often a big hit for kids of all ages, as they're both fun and therapeutic.
Here are 10 fantastic ideas for Christmas sensory gifts available in the Sensory Store. And some of them are great for adults too!
 Self-soothing and self-regulation are among the most important skills for a child to learn. Sensory Calm Down Bottles help both children and adults handle the stress of everyday life.  All the creative elements are included – just add water and a dash of washing up liquid and you're good to go!
This beautiful caramel coloured bear is made of the softest fur, and comes dressed in a corduroy coat with a satin lining. Your child will love the contrasting sensations of the fluffy fur, the firm pile of the corduroy coat, and the sleek satin of the coat lining. The Comfy Coat Bear also comes with a glossy full-colour story book about a bear with a special coat, all in a calico drawstring backpack. The book is an aid for parents and care-givers to help children manage their emotions.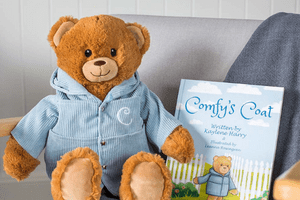 The colourful Cube Spinner is a great fidget tool for those who struggle with anxiety, and also for anyone who wants to keep their hands busy. It rotates like a spinner easily in one hand and also functions like a Rubik Cube. This is a perfect small gift or stocking filler, and discreetly fits into your hand or pocket.
This isn't just for kids, adults will love it too! Stretchy but not sticky, the warmer the Stretchy Sand gets in your hand the stretchier it becomes. And we've added essential oils with aromatic smells for a multi sensory experience. Our Orange DE STRESS Essential Oil Stretchy Sand contains orange essential oil, giving the Stretchy Sand a clean refreshing scent to lift your mood and reduce your stress.
This versatile Cozyplush Weighted Sloth toy can be heated in a microwave to provide warm, snuggly comfort, and is scented with lavender. Ideal for use as a bed warmer or heat pack, or as a soft snuggly toy. The Cozyplush Sloth can also be used as a cold pack, a cooling companion for hot humid days, and is ideal for reducing temperatures. The Cozyplush Sloth is suitable for all ages.
These cute mini squishy animals are safe and non-toxic, and small enough for little hands to carry around. They can be pinched, poked, squeezed and stretched out of shape, and will spring back into their original form when released. Perfect little stress relievers, they provide endless fun for kids and adults. 
Splodgers are brightly coloured easy to grasp rainbow bubble links. The links are easy to put together to make all kinds of wonderful creations. Great for developing hand eye coordination and fine motor skills. There are 12 splodgers in the set. Let your child's imagination create something wonderful!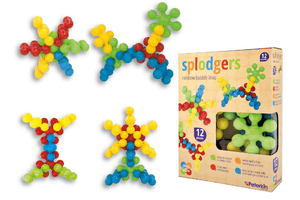 This lightweight yet sturdy froggy drum set is a perfect way to introduce your child to the world of music. Drum to a range of sound effects, listen to familiar nursery songs, and play the Catch-the-Fly game. Your child will have hours of fun with the Musical Frog Drum!
If you're looking for a bundle of sensory toys to squash, squeeze, stretch and fidget this pack is for you! There are 18 pieces in the Sensory Large Pack to keep your child occupied and engaged for hours. Does your child love fidget toys? Or enjoy the sensation of squishing soft putty? Or maybe your child is captivated by colour or scent? Whatever their preference there's enough in the Sensory Large Pack to delight all the senses.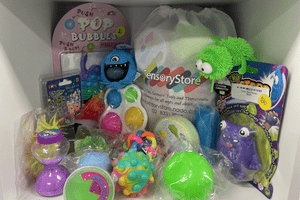 The Sensory Slug is a calming toy to keep little hands busy and quieten minds. With articulated sections that make satisfying AMSR sounds when it wiggles, it's hard to put down! An inexpensive and colourful stocking filler for Christmas.
All of these fantastic toys are available online and in-store right now at the Sensory Store, so do your Christmas shopping the easy way. Orders are dispatched promptly via Australia Post or come and visit us at 28 Gidley Street, St Marys NSW (inside the NADO building).