As the festive season approaches, it's time to start thinking about the perfect gifts for your loved ones! That's right, Christmas is just around the corner, and this year, we've put together the ultimate gift guide to make your holiday shopping a breeze. Whether you're shopping for family, friends, or even as Secret Santa, we've got everything you'll need to spread joy and delight this holiday season. 
Our Oil Slick Fidget Collection are the perfect holiday gift for fidgeters on the go! These deluxe fidgets feature beautiful holographic metal that is cool to the touch and perfectly weighted. 
Any item from our brand new axolotyl collection is sure to put a smile on the face of anyone who finds one under their Christmas tree! Choose our bead putty, glittery squish, squishy ball, stretchy axolotl, cute pen (or maybe all 5) for an adorable, surprising gift for someone you love!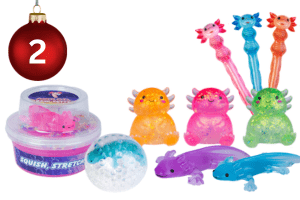 (3) SPLAT GUY 
Splat guy is the ultimate gift for those who love the squeeze, squish and watch things go "splat"! With 6 bright and fun colours to choose from, splat guy is the perfect 'stocking stuffer' for children (and big kids too).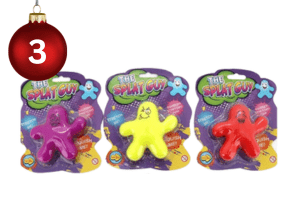 (4) ARK CHEWS 
No matter your or your loved one's chewing preferences we have a fun and colourful Ark Chew for you. From unicorns to dinosaurs, necklaces and bracelets we have something exciting for every chewer! 
(5) STRETCHY SAND 
Giving the gift of essential oil stretchy sand is like giving unlimited scented fun! Show someone you care this Christmas by choosing from our 6 bright colours and delicious scents! 
(6) SENSORY KITS AND GIFT PACKS  
Great for newbies and experts alike, we have a sensory pack for everyone containing some of our bestselling sensory products. With a variety of different items inside, these sensory gift packs make for a great 'starter pack' for someone figuring out their fidget preferences or the perfect addition to an aficionado's collection! 
(7) GALAXY MOON LAMP  
This lamp is the perfect addition to any room! With its own remote control and 16 colours to choose from, give the gift galactic exploration this Christmas.  
(8) CALM DOWN BOTTLE 
Let the creative juices flow with our Calm Down Bottles! This easy DIY project is not only a super fun way to encourage imagination but can be used to help little ones self-regulate their breathing and improve focus.  
Elevate the holiday spirit with our Dome Wireless Speaker. Featuring colour changing LED lights that sync to your music, you can bring the gift of music and joy to your loved ones this Christmas season.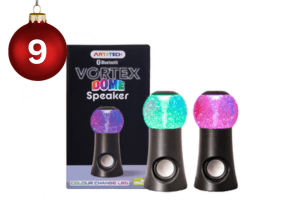 (10) WARMIES 
Warmies have become a favourite Sensory Store gift option! These lovable plush friends not only provide a cosy snuggle partner but also features a microwavable and refrigerable pack inside for extra warmth or cooling. It's the perfect gift to keep your loved one's toasty and feeling cherished during the holiday season. 
Order by 14th December 2023 for your best chance to receive packages in time.

Merry

Christmas

and Happy Shopping!!